Sea Safety
This Sea Safety Guide is aimed at users of larger motor boats but shows some of the potential dangers that you may face while at sea and how you can avoid problems.

Every power boater and sailor should support the RNLI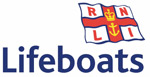 The RNLI is the charity that provides the lifesaving service around the UK and Republic of Ireland. Mudeford is our local lifeboat station and we are proud to support them.
For RNLI (Royal National Lifeboat Institute) membership go to www.rnli.org.uk
SafeTrx Voluntary Safety Identification Scheme
SafeTrx replaces the Voluntary Safety Identification Scheme (CG66) that was administered by the MCA. It provides vital information about you and your boat in an emergency.
For MCA (Maritime & Coastguard Agency) information go to www.mcga.gov.uk
NEXT GEN Workshops
The NEXT GEN programme builds on our experience of running specialist training sessions and brings together a unique mix of international organisations, solution providers and maritime expertise.

For information go to www.nextgen-marine.com
Shock Mitigation Training

Our marine knowledge is based on over 30 years experience managing, operating and training. We are pleased to discuss your specific training requirements regarding RIB, high speed craft (HSC), marine and special projects.
For information go to www.shockmitigation.com
Latest News
In the 1979 Fastnet Race I was sailing on…